TZ-DT06 WiFi Probe Module for Collecting Mac Address with Passenger Flow Tracking and Statistic, Analysis of Attendance Data etc
stars, based on
( 0 )
reviews

Features:
TZ-DT06: WiFi-TTL can be integrated with only four lines
Introduction:
TZ - DT06 WiFi probe by fetching the air 2.4 G wireless packet (mobile phone need to open the WiFi, generally WiFi is opened), using the wi-fi technology principle, Shenzhen DOIT developed WiFi probe software package. The user can directly obtain some important information of mobile phone or router packets , such as (mobile phone) MAC address, the router address, channel, WiFi signal strength, and so on. Based on this important information, existing products have been widely used as follows:
People flow statistics:

such as shopping malls, stores, can trought statistic the mobile phone's MAC address, get the population flow, stay time, new and old customers and other statistical results;

Passager flow statistics:

such as parking lots, tourist attractions, waiting rooms, highways, etc, can get statistics on the population quantities;

Attendance tracking:

such as company, school, can be very precise to attendance record and tracking for on-the-job personnel, such as how long does it leave the company, how far they leave, it can avoid the disadvantages of traditional attendance, such as fingerprints, someone may according to the fingerprint to leave, then come back after work and press prints and so on.

WiFi location:

according to the WiFi signal strength and corresponding model, the corresponding position can be basically obtained (the accuracy is about 3-5 meters)

WiFi advertising machine:

the number of times that you watch or pass an advertisement..
TZ-DT06 Structure: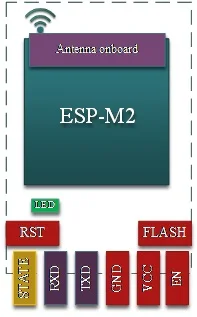 Your cart is currently empty.